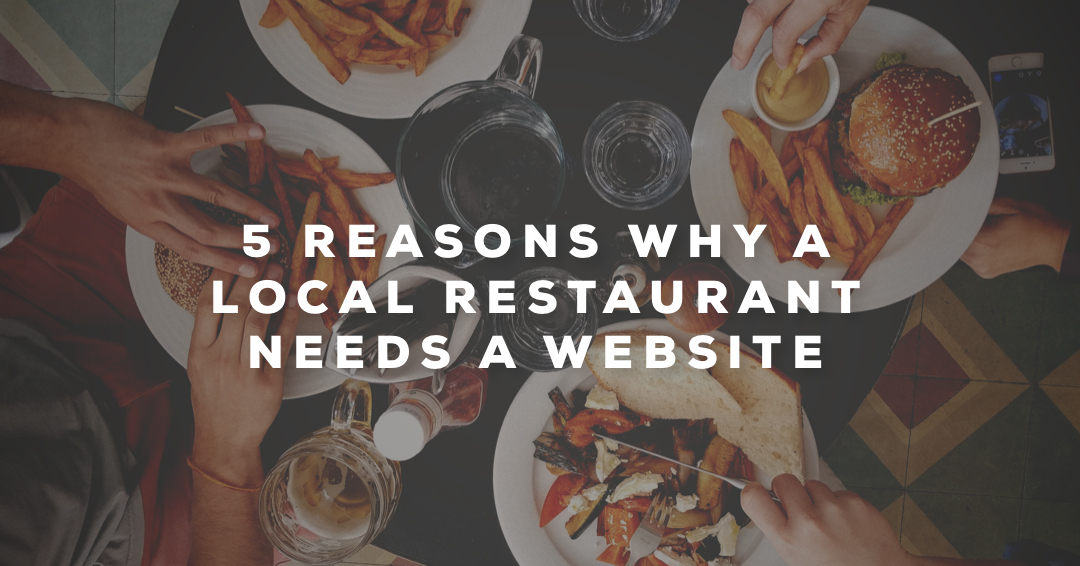 5 Reasons Why Local Restaurants Need A Website
Are you setting up a new restaurant, or are you revamping an already existing restaurant and wondering if your restaurant really needs a website. It might seem like having a website, especially as a local restaurant is an unnecessary luxury. After all, you're right around the corner! You may think if anyone needs information about your restaurant they can just come around and ask. Right? well, that could work, but it's far from effective. No matter how small a restaurant is or how long it has been around for or even how well known it is, you do need a website. You need a good website that gives clients all the right information about your restaurant and helps you attract even more patrons.
Don't think a local restaurant needs a website? you may be pretty set in your ways and we can't fault you for it, however, we believe we can convince you that a website is a necessity for your local restaurant, so here are 5 reasons why you need to create a website for your business as soon as possible.
You can share your hours, location, and menu on your website
A website helps you establish a local brand
You get a better presentation on your website
Online booking can be done on websites
Gathering data from a website
1. You can share your hours, location, and menu on your website
Having the correct information about your restaurant that is put out by you on online is a very valuable way to control content and ensure that your restaurant is represented the right way. You can put up your hours of operation on your website so clients are not left wondering what time is ideal to show up at your establishment. This also helps with bookings and scheduling appointments, when your clients know what time they can come by for a bite, they can book in advance or plan to host a party or make reservations for dinner.
For out-of-towners
Or people who are not familiar with the exact location of your restaurant, having a website with a detailed description of your location and even helpful directions on how to get there helps you bring new clients a step closer to locating your restaurant, you can also share your menu including specials, and exciting new additions so that customers know what to expect when they come to eat. And for those clients who have been craving a dish and wondering where to find the special meals you offer, they will be able to see them on your menu and come by for a treat. Having all of this information readily available online makes it more convenient for you and your clients to connect. They get reliable information and you don't have to answer a million phone calls or emails with questions about your hours or menu anymore.
2. A website helps you establish a local brand
Branding is everything these days, you want to have the best representation of your business everywhere and having a website helps you put your best foot forward online. A website helps you put up the right image of your restaurant online and promote your web pages for maximum visibility.
"It takes 20 years to build a reputation and five minutes to ruin it. If you think about that, you'll do things differently." – Warren Buffett
Any businesses can always benefit from having more clients and when your business can be easily found online with a website that uses attractive colors and fonts, has real-life images of their meals or pictures of clients having a good time at their restaurant, will make potential customers easily drawn in to come by and see for themselves.
Having a stylish and well-built website that is easy to navigate, gives all the right information and is easy to understand helps make your clients trust your brand more and it's a great way to get people to know about your brand. A good online presence and image is part of excellent businesses branding which in turn helps you stand out from your competitors.
3. You get a better presentation on your website
When you have control of the content on our website and how and when it is put out, you are sure that only the best photos and videos that accurately represent your restaurant are shown to the world. Customer reviews are great and having customers put up photos of your food can help you gain the trust of potential clients because some people feel they can trust the opinions of their fellow customers more.
However, customers do not always get the best angles or shots of your products and sometimes your hard work is not always presented in the best light. If you leave the photos and videos completely up to unprofessional it can spell bad luck for your business because it just will not be presented in the way you want it to.
When you put up your own professional photos and videos which you have taken time out to plan and execute perfectly in a way that truly shows the delicious meals and ambiance of your restaurant on your website, these images will capture and hold the attention of your customers, present your establishment in a professional manner and even gain more clients for your business.
4. Online booking can be done on websites
As we mentioned earlier, when your opening and closing hours are clearly displayed on your website it makes it much easier for clients to book a table or make a reservation to come and enjoy a meal later. If your restaurant does not have a website then it makes it doubly difficult for customers to conveniently make a booking or reservation.
You can display your contact numbers on your website so customers can call in and make a reservation or you can include a special option or call to action feature on the website that allows customers to book online and when it's time for their meal, all they have to do is show up at the restaurant and they will be shown to their seats.
Bookings made online are faster and more efficient, in some cases, clients can even choose what meals they will be having from the menu on your website. This takes a considerable load off your staff and helps you plan in advance for the crowd you will expect thus making business operations run in a smoother manner. When your clients have had a chance to look around your website and work up an appetite from looking at the displays and professional photos of delicious meals, they will be ready to make a reservation and come to your restaurant for a well-prepared meal.
If your restaurant offers delivery services, include an option for clients to order food on your website, including a place where they can upload their details and pay for their food. You can also include a feature where clients are provided with an estimated time of when their meal will be ready and have it delivered to them wherever they are.
5. Gathering data from a website
One of the best ways to get feedback, ratings, and reviews is from customers posting on your website. You can have a page solely dedicated to customer reviews and ratings on your website so that new customers who are looking to get a feel of what your meals taste like or how well your staff handles client services can easily navigate to this page and get answers.
The convenience of digital
Gone are the days when you would only get feedback by speaking to customers while they are seated in your establishment. These days most clients are online and posting reviews as soon as they walk into your restaurant, they post pictures of everything from their food to the environment along with comments on how they feel online on various platforms so why not make your website a place where they can also share their views and it can be appreciated by the restaurant owner and other diners.
It is also important to maintain a good level of engagement with your clients online, respond to comments and reviews with a show of appreciation and take their complaints into consideration. Customers will feel good when they return and see that their suggestions were taken note of. This can turn them into loyal patrons and they will be more likely to recommend your restaurant to friends. Another great way of gathering data from your website is by having contact forms customers can fill when they have an issue or simply want to relay a message to your restaurant. They can also sign up for subscriptions and get emails or messages with updates on new developments in the business, bonuses, and offerings or simply to say keep in touch and share general information with your clients.
Conclusion
Almost every business has a website these days and for good reasons too! You too can enjoy the many benefits of having a website for your local restaurant that helps you connect with your clients and enables your business to run more efficiently. Don't get scared off by the belief that building a website will cost you a pretty penny, designing a suitable website for your restaurant and creating engaging content that gives your clients valuable information is a lot easier than most people would make it seem. There are a number of tools and experts available to help you design the perfect website that presents your restaurant to the world in a way that is informative, honest, authentic and flattering.